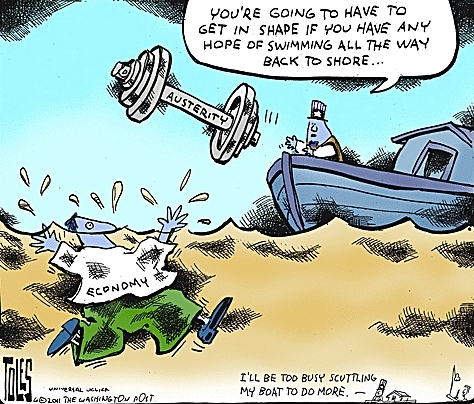 If you have a large amount of debt, cut expenses; tighten your belt. Who says?
Says the people who want to screw you again – and make you pay for it again. True, there are others saying the same thing but they are either the toadies of the above parasites or the gullible, touting the bunkum of the above parasites.
The banks almost tanked the global economy. You and I bailed them out. Now they want more from us. They call it austerity. They justify it with specious arguments.
Wall Street owns almost all of the Republican candidates. There are a few they are smart enough not to even bother with, though they echo the same tripe. Bernie may be the only candidate they don't own.
For the most part, I will spare you my rhetoric and let a couple of others provide some clarity on the subject of austerity. [click to continue…]
{ 0 comments }