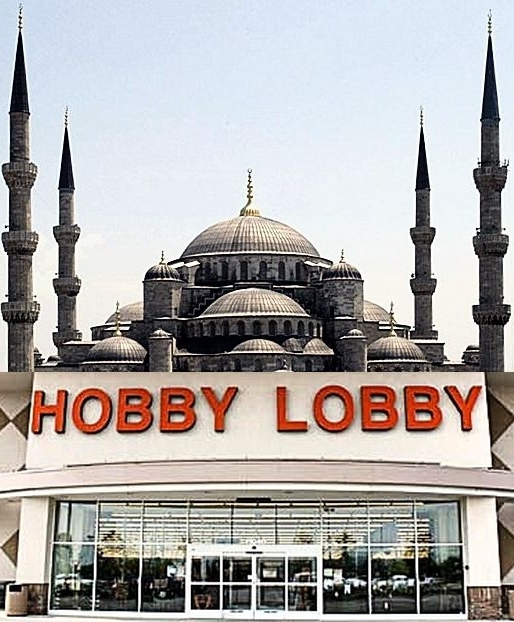 Just when you think the Supreme Court of Wall Street has set the conservative ideology bar as low as it can go, they return for an encore.
While the rabid fundamentalist Christians are celebrating their victory over their black nemesis, Obama, they unwittingly handed their bogeyman a Christmas whoops . . . Happy Holidays present in the muggy swamp that is Washington, D.C.
Hobby Lobby became the vanguard for the idiots out there masturbating in the sand. To switch metaphors, the doors of Hobby Lobby are the shortcut into the mosque. You know what a mosque is. It's the place where you learn all about shariah law.
If corporations are people and can be devoted to religion, as the Foolish Five in black robes have proclaimed, there must be a Muslim corporation, er, uh, person lurking somewhere out there in the marketplace. There is also some likelihood that a nefarious corp . . . person will need employees.
There is a persistent rumor, sometimes heard in other countries that there are a few Muslims that are nice people. These atypical Arabs are nice to other people, even employees. Some even wish their underlings good health. I think the word in Arabic is, gesundheit. 
Now, being a nice religious person doesn't mean they will go against their religious tenets. Nor will they want their employees to stray beyond the teachings of the Prophet. Many have critcized them but Hobby Lobby was gracious enough to pave the way for their Muslim fellow religionists and shariah law.
Zealots of all stripes can now run rampant. They can follow the musings of Bronze Age Pat Robertsons or opt for the more up-to-date 7th Century-style fantasies of Osama bin Ladens. I'm certain Hobby Lobby would happily offer suggestions on how to accessorize all of those virgins. And those not on the hero's current to-do list could use some ideas for hobbies to keep themselves occupied.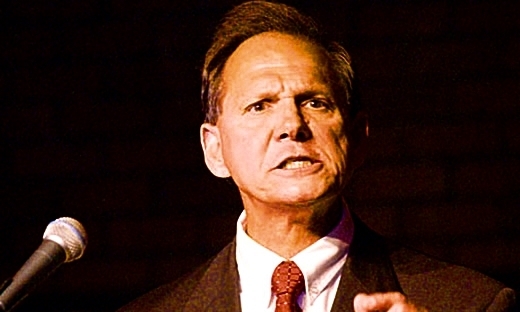 However, this may not endure. The Court failed to take into consideration the wisdom of Roy Moore. Roy, Chief Justice (?) of the Supreme Court of Alabama sometimes gets confused. He has great difficulty recognizing the differences between law and religion. He also has that problem of an inability to understand either. But, pay close attention to Roy's physiognomy. Can't you just see the love of the God of love oozing out of every pore?
Mister Roy says that Representative Kieth Ellison of Minnesota cannot sit in the House of Representatives, to which he was elected. Why? Well, Roy discovered that Keith is a Muslim. Apparently, God (Christian version) or James Madison told him that the First Amendment was intended to apply only to Christians. How could a perfect God and all of the wise old Founders have forgotten to share little detail with the rest of us?
When the Court takes cognizance of Roy's epiphany, they will have to find a case somewhere that permits them to rule that corporations cannot be Muslims. That door will have to be closed. Imagine, the Dalai Lama having to wear a suit and tie as CEO of Buddha Burritos.
All of this has me almost as confused as the Court's conservative scholars.

.
.