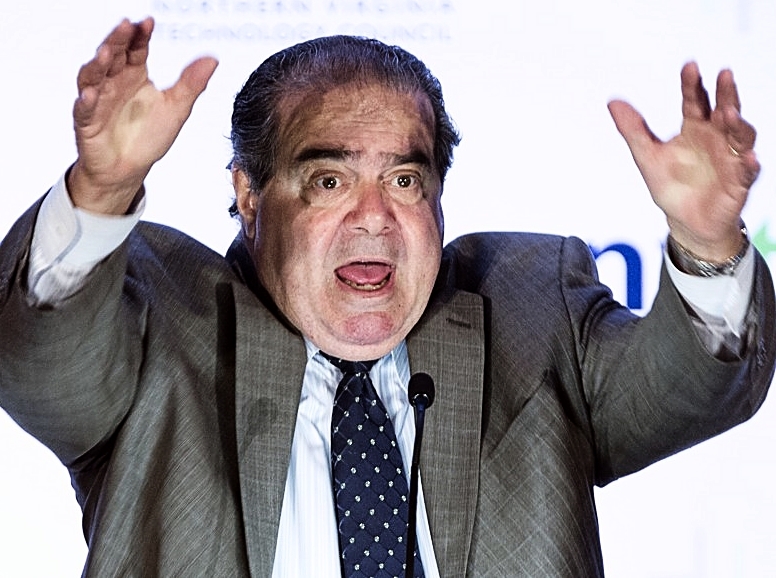 Chronic anger and senility are not an attractive mix. The body politic is burdened with the embarrassment of this robed buffoon.
This is a sociopath that judges, based on a rabid, an abject devotion to a ridiculous ideology that is a substitute for thinking. Nay, he considers it actual thinking.
This intellectually deficient clown is often referred to as the intellect of the right. Really? How so? Because he tells everyone that he is. In that regard, Newt is a serious rival. In actuality, he is a ranting, raving idiot.
To quote this self-ordained mastermind, "Words no longer have meaning," He then proceeds to inflict upon us a lengthy harangue. Ironically, it was composed of a confusion of words; some of those selfsame 'meaningless' words.
In his version of a tour de force, Tony devastated the majority opinion with such considered arguments as, "The Court's next bit of interpretive jiggery-pokery . . . " and "Pure applesauce," While you and I may look upon those as pure jibberish, he thinks that is sufficient to overcome the arguments of his inferiors – all of us.
Scalia's most notable social skill is the insult. He seems convinced that insulting another either makes him superior, or is proof of his superiority. Just another example of his delusion; his simpleminded perception. Pitiful and pitiable.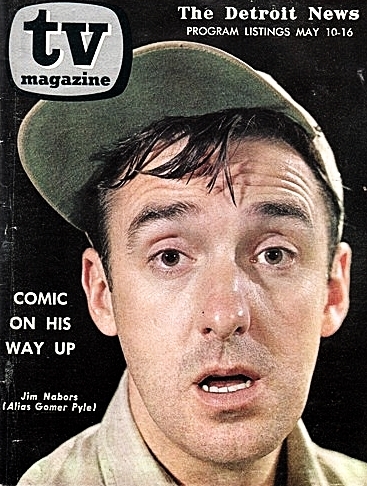 At least in Mayberry, they knew what to do with the village idiot. They gave him his own television show, so we could laugh at him weekly, without causing actual damage to the nation.
Mr. Scalia is not alone. He enjoys the company of his teched twin, Clarence. While both made comments after the Obamacare case that were more laughable than usual and their discomfort entertaining, their arguments in the same-sex marriage case were dumbfounding, truly incredible. It is obviously a result of the apoplexy that strikes them every time they find themselves in the minority.
The plaintive cry to maintain traditional (read Biblical) marriage is curious. Abraham married his half-sister. Isaac married two sisters. Moses married his father's sister. Solomon married 300 women and kept 700 more in his harem. Scholars tell us Joseph likely married a 13-year old. Do they want to open that can of worms? True traditional marriage was more of a business arrangement. Women were property. Marriage was recognized as a contract which spelled out property rights. I have asked around, I actually have, and no one I questioned felt their own marriage jeopardized by the Court's decision.
Are the religious rights of Christians under attack? Yes. Their "right" to impose their prejudices upon everyone else is somewhat compromised. And the churches bakeries may have to top their wedding cakes with a wider selection of decorations.
Tony, Clarence and these other devotees of a neolithic mentality resort either to religious considerations or to a plebiscite. They say it is not the responsibility of judges to rule. Let the people decide? Judges are supposed to protect people's rights under the law, in accord with the Constitution. The people were not given that obligation. The laws that the judges are required to use to evaluate a case are the laws of this country, not Islamic Sharia law, not Hebraic Commandments. Shouldn't members of the Court know this?
Strangely, Scalia claims to have a problem with the citizenry having nine lawyers making their decisions for them. Is he suggesting that we should ignore the Supreme Court? Or, is he suggesting we ignore it only when he is in the minority?
I can't recall he, and others of his ilk, wanting to ignore the court's proclamations on corporations being people, money being speech or Hobby Lobby being a church. A change of heart? No, just experiencing something akin to spoiled brats wanting to take their ball and go home when they aren't winning. Spoiler alert: it ain't their ball.
Some, however, would prefer to go beyond simply ignoring the Court. The GOP presidential candidates seem to feel the Founders [f-word] up. Scott Walker is furiously searching for ways to ban gay marriage. Ted Cruz wants to vote out the ones that fail to agree with him. None of that satisfies Little Bobby Jindal. He wishes to eliminate the Court.
All of this should be expected. It's the result of depending on an ideology to provide all of your answers. It's perfect for those too intellectually lazy or deficient. Their ideology is particularly dangerous. It's akin to being in a car going forward but refusing to look anywhere other than the rearview mirror. One should only expect disaster to result.

.
.