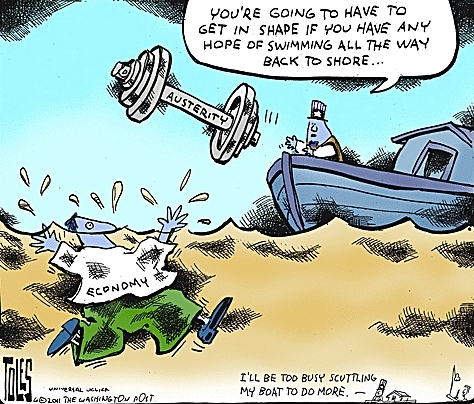 If you have a large amount of debt, cut expenses; tighten your belt. Who says?
Says the people who want to screw you again – and make you pay for it again. True, there are others saying the same thing but they are either the toadies of the above parasites or the gullible, touting the bunkum of the above parasites.
The banks almost tanked the global economy. You and I bailed them out. Now they want more from us. They call it austerity. They justify it with specious arguments.
Wall Street owns almost all of the Republican candidates. There are a few they are smart enough not to even bother with, though they echo the same tripe. Bernie may be the only candidate they don't own.
For the most part, I will spare you my rhetoric and let a couple of others provide some clarity on the subject of austerity.
The economic prescriptions of the Republicans here in the US are the same nonsense as coming from the conservatives in the European Union. The effects of the austerity imposed on Greece will have similar effects on us. Naturally, it will not be as severe, as this economy is far larger and stronger. But, if you like the lack of dynamism and constipated recovery we are enduring, vote Republican and see how much higher youth and general unemployment can go and how much smaller the middle class becomes.
First, Agnes Török, a British poet provides a powerful performance on the subject from the perspective of the youth.
Now a couple of pieces from Mark Blyth, professor of international political economy at Brown University. Listen carefully. While his Scottish accent may be less than fully comprehensible to the American ear, his words could not be better chosen nor his points more germane.
Okay, another chance. Here, without the graphic distractions, you will have no excuse for failing to master the beautiful, rich, stentorian tones of Mark's Scottish idiom.

.
.