What have we done to merit this abomination?
That raucous noise coming out of the District of late is from what appears to be the latest Joe McCarthy wannabe. Calling those with whom you disagree communist and such will earn you that distinctive reputation.
Teddy Cruz is the new senator from Texas. That explains a lot. He comes with the swagger common among those referred to as "all hat and no cattle."
After learning that this asshole has a law degree from Harvard, one initially thinks, "is there a Harvard, Arkansas? a Harvard, Alabama?" Next, you marvel at how far Harvard must have fallen.
We are inclined to think that most people processed by that university have at least a measurable intelligence. So, you think that, perhaps he is fairly intelligent and educated. This behavior is not honest; it couldn't be. It is just an act specifically designed to entertain his 'boobouisee' constituency. Then again, that may not be the case.
Teddy was one of the featured speakers at CPAC, the annual zoo of the Conservative Political Action Committee. This group of putative conservative leaders honored the losers of the past by featuring Sarah Palin, Rick Santorum, Donald Trump, Mitt Romney and several other clowns. You know, of course, that these 'real' conservatives are charting an overhaul to regain the majority. This roster is the menagerie on which they will base their comeback.
They shunned Chris Christie, the most popular Republican, and any others that are somewhat credible politicians. It appears they are intent on maintaining their record of losing 5 of the last 6 presidential elections. Into this Republican version of a Belushi toga party strides the inimitable Senator Mouth.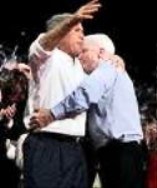 Because of his fecal-like ramblings, Senator John McCain had called him a "wacko." Teddy took his opportunity on the CPAC stage to strike back at old John.
He didn't refer to McCain by name but reminded everyone that he had been called a 'wacko' by someone he called an éminence grise. I presume he thought he was being sly, while displaying his erudition. Sorry, Charlie.
First, this Harvard-educated leader mispronounced it. His version came out as "gree-say." Had I been mispronouncing it all these decades? No. Just to be certain, in case my senility had crept up closer than I realized, I checked the dictionaries. Sure enough, it's still pronounced "greez."
One other problem: his use of that French phrase was incorrect. Éminence means power. Grise means hidden. In English, it translates as the power behind the throne. Has anyone ever seen old John as the power behind the throne? Which throne?
So, here we have this person that I temporarily credited with intelligence and education publicly, with great self-assurance, mispronouncing a relatively well-known phrase while misusing it. Perhaps the garbage he spews is heartfelt after all, not just a public pose for his followers, the distant relatives of human beings calling themselves tea party patriots.
I don't expect him to be much more than a sometime nuisance, a sometime object of derision. His following seems hardly capable of organizing any two of themselves in a straight line.
One of his pitiful, pitiable admirers made a prediction that one day President Cruz would . . . do whatever. His followers obviously have little connection to reality, mimicking their leader.
I don't think the Republicans represented at CPAC have found their forward gear. They remain stuck in reverse.

.
.