About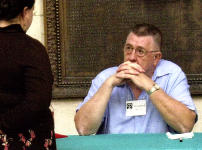 While Davy Crockett was born on a mountain top in Tennessee, I was born at the bottom of a mountain top. One grandfather was sheriff and the other chief of police at the time of the Scopes' 'Monkey' Trial in Dayton, Tennessee. One of my great grandfathers was the state's last surviving veteran of the Civil War. He fought for the Union.
I have far too much formal education but learned far more outside the Groves of Academe. Math and the natural sciences taught me to think logically. The social and behavioral sciences played a role in developing the emotional side. History taught me that most of the facts we think we know are incorrect and an impediment to understanding.
About the Site
The basic training company at Ft. Jackson, South Carolina had 225 recruits. Five of us were from the South. The others were from New York, New Jersey and Pennsylvania. We were being called hillbillies. I told them, "Ah never woulda joined the Army, if'n I'da knowed I hadda wear shoes." Telling a better joke on yourself than they could tell shut them up.
Later, one day five or six of us were standing around for 3 or 4 hours solving all of the world's problems. After all, we were graduate students at the top school in the field of international relations. The student body was among the most cosmopolitan one could find.
All of a sudden, one of my peers, who had done his undergraduate work at the University of Michigan, blurted out, "You know, Crawford, you talk slow but you're really not all that dumb." There was a deadly silence that seemed would never end. Then, it appeared he was actually, physically shrinking right before our eyes from embarrassment. It wasn't his inexcusable grammar. It was his prejudice. My accent had betrayed me. I was stigmatized as a hillbilly.
Reading this blog may prove that stigma unwarranted, or not. Either way, my wish is that it proves worthy of your attention.
You may email me directly via the form below.